Archived - Faro Mine Remediation Project: Surface Water Quality Monitoring Baseline Report, Winter 2018
Archived information
This Web page has been archived on the Web. Archived information is provided for reference, research or record keeping purposes. It is not subject to the Government of Canada Web Standards and has not been altered or updated since it was archived. Please contact us to request a format other than those available.
This report contains information on the key contaminants of concern at the Faro Mine site. These four contaminants have been known to exceed existing water quality guidelines in the past:
Surface water around the site is also tested for concentrations of many other potential contaminants including lead and mercury. Testing shows concentrations of lead and mercury are low and within water quality guidelines. The contaminants we focus on in this report were chosen since they are key indicators of deteriorating water quality on the Faro Mine site.
Concentrations of contaminants fluctuate with the seasons, falling in the spring as water flows increase and rising in the winter as water flows decrease. Concentrations of contaminants are higher at testing stations that are closer to the site, and are lower farther downstream.
Testing shows that ultimately the mine site has had little to no impact on contaminant levels in the Pelly River.
We provide detailed measurements for each contaminant at a number of monitoring stations in the sections below.
For more information please contact:
Faro Mine Remediation Project Team
415C-300 Main St Whitehorse, YT Y1A 2B5
aadnc.faromine.aandc@canada.ca
Telephone: 1-800-661-0451
Website: Remediating Faro Mine in the Yukon
About this report
This report shows the reported levels of each contaminant at several of our water monitoring stations located on the Faro Mine site over a period of 4 years, from 2014-2017. By comparing the data over these years we can see the changes in the amount of contamination that is occurring at each monitoring station.
This report will be published twice annually and is intended to provide a plain language summary of key surface water quality conditions at and around the Faro Mine area. A more detailed annual monitoring report which covers all water quality (surface, ground and seepage) will be available in 2018. Any questions regarding the content of this report can be directed to aadnc.faromine.aandc@canada.ca.
Background
The Faro Mine site was once the largest open pit lead-zinc mine in the world. Today, it is the site of one of the biggest abandoned mine remediation projects in Canada. It is located in south-central Yukon, near the Town of Faro, on the asserted traditional territory of Ross River Dena Council, Liard First Nation, and Kaska Dena Council and upstream of the traditional territory of the Selkirk First Nation. The Faro Mine site is 25 sq. km – an area roughly the size of Victoria, British Columbia. Processing the ore at the mine left behind 70 million tonnes of tailings and 320 million tonnes of waste rock, which have the potential to leach heavy metals and acid into the surrounding land and water.
The Faro Mine has several distinct areas, and falls within the watersheds of Rose Creek and Vangorda Creek, which drain into the Pelly River. Three major areas comprise the Faro Mine:
Faro Mine site, including the Faro Pit, waste rock dumps and former mill
Rose Creek tailings impoundment
Grum and Vangorda mine areas and a road from Faro Mine site to these areas
Environmental monitoring at the Faro Mine is conducted on a regular basis for surface water and groundwater quality and quantity. Surface water quality is sampled monthly at about 60 locations and is sampled 7 times per year at some remote sites that are only accessible by helicopter.
Because of the volume of data generated in any given month, this report summarizes only key information from selected sites upstream, on site, and downstream from the site. The report focuses on the key contaminants of potential concern. Full reports from monitoring activities at the Faro Mine site can be downloaded at Waterline – Yukon Water Board filed under expired license #QZ95-003-1.
The table and map below outline the sampling stations selected for this report. Reference stations are not affected by mine contamination, and act as a baseline to which we can compare other sampling stations.
Table 1. Sampling stations presented in this report
Station
Description
Faro Creek/Rose Creek Area
FC
Reference station (not impacted by the mine): Faro Creek upstream of the Faro Mine
X14
Rose Creek immediately downstream of the mine site
R5
Rose Creek downstream of its confluence with Anvil Creek (about 15 km from the mine site)
Vangorda-Grum Area
V1
Reference station (not impacted by the mine): Vangorda Creek upstream of mine site
V2
Vangorda Creek, downstream of mine
VGMAIN
Vangorda Creek, downstream of mine, 1 km upstream from the town of Faro.
Pelly River
P1
Reference Station (not impacted by the mine): Pelly River upstream of Town of Faro
P4
Pelly River downstream from confluence of Anvil Creek
At each of these locations, we provide a summary of the presence and changes over time in sulphate, zinc, iron and manganese. We selected these contaminants of potential concern as they are key indicators of deteriorating water quality on site and have been observed to exceed existing water quality guidelines in the past. The following four sections present the concentration of each of these at the sample stations listed in Table 1. They are located on:
Faro Creek
Rose Creek
Vangorda Creek, and
Pelly River
These watercourses were chosen because they have been, or potentially could be, affected by the site.
Sulphate
Sulphate in water results from natural weathering of minerals, atmospheric deposition, and human activity. Sulphates are discharged into the aquatic environment in waste from industrial sources such as mining and smelting operations. Metal mines, like Faro, can be significant sources of sulphate as a result of oxidation of sulphide minerals. High sulphate levels are often used as an early indicator of increased acid rock drainage. The effects of sulphate on aquatic organisms is closely related to water hardness (sulphate is less toxic in hard water). Toxic effects linked to sulfate are rarely observed in the natural environment. We monitor sulphate at the Faro Mine site more because it can indicate acid rock drainage rather than for its potential toxic effects on the aquatic environment.
Zinc
Zinc, in trace amounts, is an essential element for plants and animals. In mammals, it plays a vital role in the healing processes of tissues in the body. Like many essential elements, too much zinc can lead to toxic effects in humans (most commonly from acidic foods stored in galvanized containers). Several factors such as water hardness, salinity, temperature, and the presence of other contaminants influence zinc toxicity in aquatic environments. The concentration of zinc in natural waters is generally low, but on occasion, high levels have been measured in natural environments. High levels of zinc are often found in waters flowing through bedrock containing zinc deposits. Elevated concentrations of zinc in the surface waters around the Faro Mine site have been measured over recent years; this is an indication of metal leaching through tailings or waste rock piles. As one of the key contaminants of potential concern, monitoring of zinc and other metals will continue throughout the remediation, closure and care and maintenance of the Faro Mine site.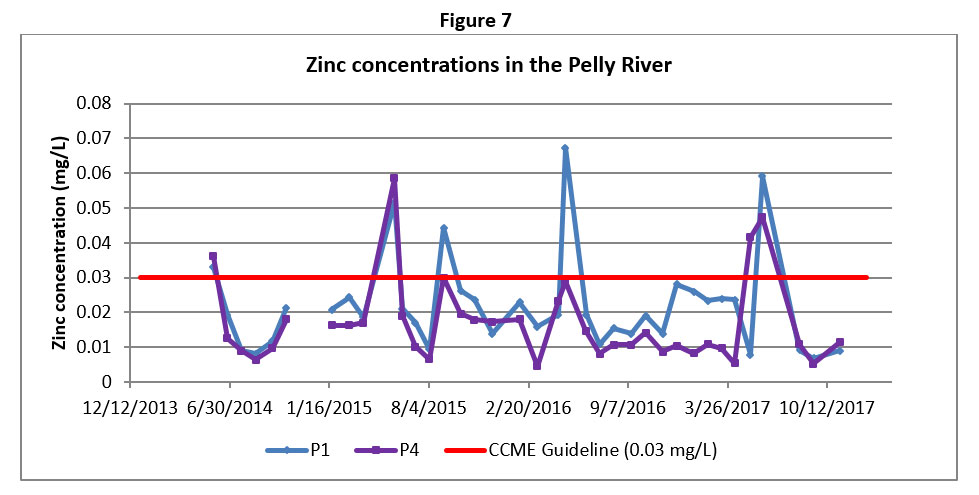 Iron
Iron is a key element for all forms of life. It is a necessary component of a healthy diet, and low levels of iron can lead to anemia and other health concerns. Like all things, too much iron can also be potentially toxic. Iron can affect fish by clogging gills and reducing the fish's ability to breathe, which can lead to its death. It can also alter the structure and quality of fish habitat. Iron can be found in various forms in the environment; it can range from very soluble (i.e. dissolves in water very easily) to almost insoluble (does not dissolve and appears as suspended particles with a red colouration). Iron is the fourth most abundant element by weight in the earth's crust and is often a major component of soils (often giving soil a reddish tinge). Mining activities are also another related source of iron in surface water. Iron is often released through the weathering of waste rock and tailings. Iron will continue to be monitored throughout the remediation, closure and care and maintenance of the Faro Mine site.
Manganese
Manganese is a naturally occurring substance contained in rock and soils. Metal mining and refining can also lead to increasing levels of this metal in the environment. Manganese is an essential trace element for plants and animals, assisting in the digestion and absorption of food. Like most trace elements, too much manganese can be harmful to plants/animals and humans.
Thank you for your feedback