Instructions to Access Nunavut Map Selection
To access Nunavut Map Selection (NMS), you will need a username and personal password. Contact the Mining Recorder's Office in order to obtain a user account. Once the user account is obtained, follow the instructions below.
For better results please use either Internet Explorer Version 11 or Chrome Version 46 or higher.
The URL brings you to the system landing page where you can connect to NMS or access the public bulletin board that has information on mining activities, such as the posting of notices related to claim surveys or system functioning, such as maintenance periods.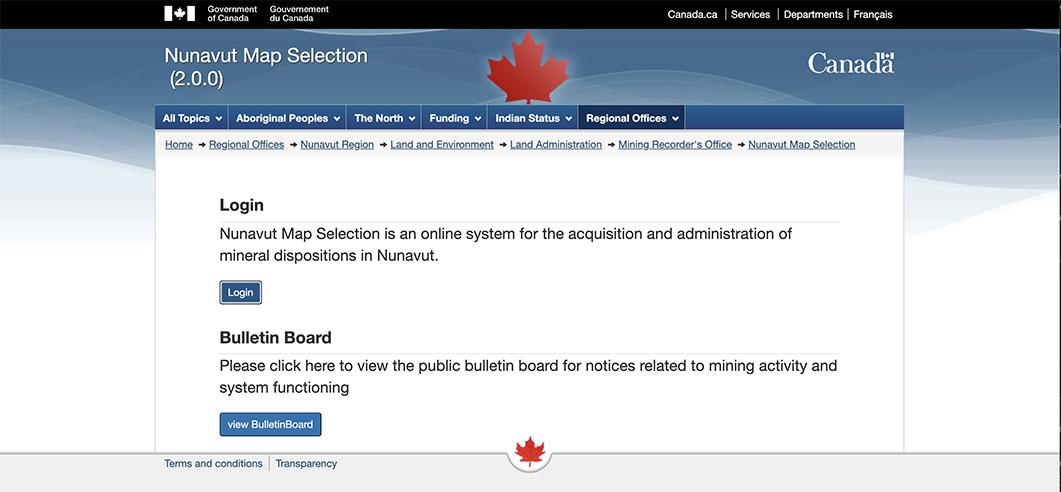 Clicking Login brings you to the department's Service Portal Page for Secure Authentication.
You will be asked to read and accept the NMS terms of use.
After accepting the terms of use, you must enter your username to receive an email with a one-time password (OTP).
Enter the OTP.  
Then you must enter your personal password.
You will then be directed to the NMS Login page, where you must enter your username and personal password again.
After successful login, you will be redirected to the NMS system main menu page.
Personal password creation
The first time you log on, the system will ask you to change your personal password. Afterwards, it will force you to change it every 90 days. Follow the instructions on the screen to change your password. Passwords must be at least 8 characters long including at least 3 of the following 4 elements:
a number
a lowercase letter
a capital letter
a special character
Changing your personal password
When changing your personal password you cannot use part or all of your username or any of the previous 9 used passwords.
Please contact the Mining Recorder's Office at 867-975-4281 if you have any issues accessing the NMS system.
Thank you for your feedback